Maybe it's some of my grandfather's blood that flows through me that makes me so attracted to buildings. I walk around most times just to gaze and sometimes I catch other people walking by gazing up with me trying to see what I am looking at. Perhaps a nude woman in the window?
Every place you stand has been stood in before. Every old pile of bricks you can find has been involved with, and has caused a whole spectrum of human emotions in its existence. Most places you stroll by everyday are more interesting than you are. 
This building is one of the oldest surviving in Denver. It was built in 1863, only six years after Denver was founded. It originally housed a saloon and at one time a boarding house. This particular building was built after a huge fire in April 1863 that destroyed much of Denver, causing the town to pass the "Brick Ordinance" that required all new buildings to be built out of brick. This was still was the law until around 1940. So, when I walk around Denver, I can always spot the older homes and buildings by their big red bricks and stones. 
What's also interesting to me is house the faces of these old buildings change over time. Originally, this building had a huge balcony on the front of it. 
Note the picture below that I stole of another site: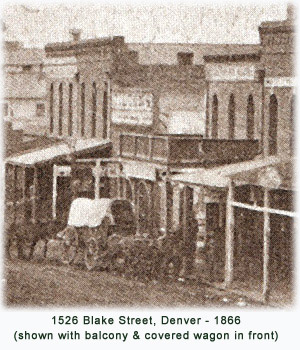 It currently houses the Blake Street Vault. A restaurant given its name because it houses an old hidden walk-in  vault  that is accessed through a secret entry in the ground floor. This vault is from 1880 and was manufactured by the Union Foundry Works in Chicago. 
There is a hidden magic in this city for me. And when I walk the streets in certain moods I can almost see what was once here. When the constant street traffic causes the asphalt to  recede enough to show a single trolly car track covered up for 50 years. Or when they remove a parking lot, and uncover the foundations of a once beautiful victorian home, that is long gone, but the basement remains intact ,it gives you a glimpse of a city of the past. One that is quickly disappearing from America.
But I can still see it. Like a man walking through a city after a great devastation, I try and piece together what once was. And it fills me up.
Denver, I want to occupy every room in every old building you keep. I want to hear all of your secrets. 
And I want to cry over your decapitated corpse. 
Wherever I wind up in life I'll always think of you. 
You wear your rugged old west like a scar that you try to cover up with too much make-up. You dirty whore, you.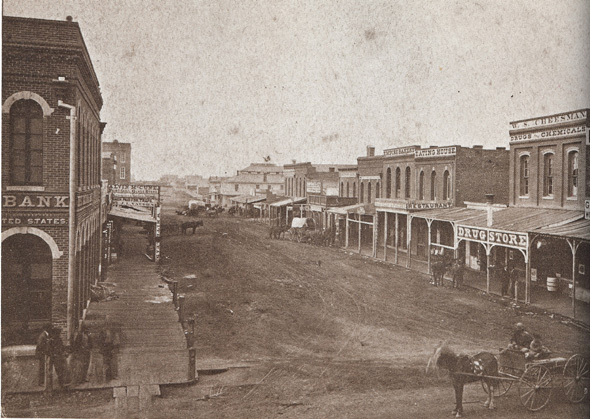 I am pretty sick of doing the self-deprecating cartoonist thing at this point. I've gotten so down on myself lately that it's no longer funny to me anymore. Sure, I'm a nobody cartoonist who has the same amount of money as the next guy on the bus, but, all of that stuff has been said before. It's a well-worn road that I don't wanna walk anymore. 
I was talking to my friend one time about how I'd like to possibly branch out  into animation some day and he looked at me like I was a traitor or something. Like I wasn't a pure comic artist. That's true. I think of myself as more of an entertainer and–hot damn- an "artist". I'd love to entertain people in any form of media.I bought a video camera so that I could mess around with it. I like putting things together. And like any true artist, why the hell would I want to limit myself to drawing boxes on paper and filling those boxes in with drawings and dialog?  So, yeah, I guess I'm not pure.
I have been working on my book so much lately that I've kind of engulfed myself in the story. After work I've just been reading and taking notes and drawing until bedtime again. Since this is my debut book, I just want everything to come out like it is in my head. And actually it's starting to! Here's the newest page that I've been posting everywhere:
Anyway.. I've been having a hard time keeping up with this blog lately. Don't let me stop!